Making the switch to vaping is easy, but there are some things you need to know before taking your first puff. First, you have to decide between a vape or an ecig, then find the right
starter kit
for your needs and select a vape juice flavor to along with it. We want to make it as easy as possible for you to navigate these uncharted waters by giving you a step-by-step guide to vaping for beginners.
The topics we cover include the benefits of vaping, how to use your vape and informative updates on vaping studies and regulations. We've also added this beginner's guide to ecigs to make it even easier for our new customers to get acclimated in the world of electronic nicotine delivery systems.
You'll find answers to all of your questions about vaping and electronic cigarettes here. We've also included helpful links you can follow to learn more about any topic.
What are Vapor Cigarettes?
Electronic cigarettes,e-cigs or vapor cigarettes, all the terms are used to refer to a handheld electronic gadget that turns a flavored e-juice or e-liquid into vapor, which is inhaled by the user, usually to fulfill their nicotine cravings. We'll use these terms interchangeably throughout this page.
Although they come in all shapes and sizes, but usually resemble a traditional tobacco cigarette. The tank holds
e-liquid,
cartomizer – powered by a
battery
– turns the liquid into vapor by bringing it into contact with a heating element, and the user inhales the vapor through the mouthpiece.
Why Vapor Cigarettes?
Electronic cigarettes offer several benefits over the traditional tobacco cigarettes. Let's talk about some of them:
What really makes the tobacco cigarette so dangerous? While nicotine makes them addictive, the real harms come from the burning of tar and more than 7000 toxic chemical compounds, 70 of which have been proven to be carcinogens. Some researches
suggest
that vapor cigarettes can contain less harmful chemicals than found in tobacco cigarettes.
More control over nicotine level
As we mentioned earlier that it's nicotine that really makes tobacco cigarettes addictive, most e-liquids give you the freedom to choose a nicotine strength, some even come without any nicotine whatsoever. This means that you can gradually decrease the strength, if you want to minimize or end nicotine consumption, without having to deal with the withdrawal symptoms.
No obnoxious smell
Unlike the annoying smell of tobacco cigarettes, that won't go away from your clothes, your car and even furniture no matter what you do, vapor cigarettes actually smell good as you might smell the sweet aroma of vanilla, strawberry etc. created by the vaporization of flavored e-liquid.
No ash
When you smoke tobacco cigarettes, one of your biggest worries is having to deal with the ash and cigarette butts. But if you use vapor cigarettes instead, your household will totally love you for that.
Cost effective
Depending on where you live and how much you smoke, switching from tobacco to vapor cigarettes can save you hundreds of dollars every single month. According to estimates, a pack-a-day smoker can save more than 50% by replacing cigarettes with ecigs.
How to choose the best electronic cigarette?
Not all vapor cigarettes are created equal. Their wide variety in terms of shape, size, functionality, quality and price is simply mind boggling. But choosing the best e-cig can be easy if you keep a few things in mind.
The first factor to consider is compatibility. Although some hybrid vaporizers with interchangeable parts allow you to vape different mediums, most are used for just one type of medium i.e. oil, wax or dry herbs. It goes without saying that you should only buy an e-cig that's compatible with the material you use.
In terms of functionality, there are two major types of e-cigs: convection style and conduction style. The convection style vaporizers blow hot air through the material to vaporize them while conduction style vaporizers do the same through direct contact with the heating plate. While the conduction e-cigs have a very short heat up time, but the convection style vaporizers offer a better taste and can completely and uniformly turn the material into the vapor.
Prefer a simple e-cig over a complicated one. Most electronic cigarettes have just one button, and are very user-friendly, however, the more complicated a cigarette is, the higher the chances are that it will malfunction
As for the design, choose a unit that looks decent, is easy to use and feels durable. A discrete and portable design also gets additional points. Some other important factors to consider include battery life, the size of the vaporizer, ease of use, warranty and price.
Why Mig Vapor?
MigVapor, are proud of our cutting-edge vape mods, e-cig cartridges, ejuice, vape tanks and everything
Mig Vapor's e-cig starter kits have won several awards. In fact, the
Mig 21 Refillable Cartridges
has been recognized as the best refillable vapor cartridge to make the switch to vaping for multiple years running. We love the compliments from e-cig reviewers but nothing on earth gets to us more than when we hear from our customers when they tell us that Mig Vapor is the e-cig that has changed their lives. Many of our customers begin their vaping journey with the Mig Vapor
starter kits.
We offer different options with something to fit every budget and every lifestyle. Our cigarette style e-cig batteries are unlike any others. MIG e-cig batteries are designed to simulate a 4.2-volt output every puff proving a consistent, full and satisfying vapor every time.
Mig Vapor e-cigarettes prove themselves to be a superior choice not to mention a far better value backed by a 30-day money back guarantee on Starter Kits.
In addition to that, we give you a variety of flavor options and four nicotine options because we know that not all smokers can be lumped into one basket. You are unique and you deserve options that suit your specific needs. Sometimes, smokers want more vapor and bigger, more powerful e-cig batteries.
Basic easy to use
e-cig tank systems
are very popular And MIG Vapor have got some of the best electronic cigarettes for our customers.
Types of Vapor E-Cigarettes by Mig Vapor
Cig-a-Likes
The Cig-a-like starter kits are ideal for beginners as they are similar to cigarettes, are very easy to use and give pretty much the same sensation as the traditional cigarettes. Just slam the refill cartridge into the unit and enjoy vaping. In addition to high-quality materials used and cutting-edge engineering, what really sets our fully loaded starter ecigs is the exclusive batteries. The batteries feature a smart microprocessor that ensures consistent 4.2-volt output for extended vaping sessions. For people who are replacing smoking with vaping, our kits offer different nicotine strengths of 0%, 0.6%. 1.2% and 1.8 % to keep your cravings under control and also let you gradually reduce the nicotine intake.
We have a variety of starter kits, all offer a great experience for different styles of vaping and price range. However, all of them are top-quality units and guarantee satisfaction.
Click
here
and check out our selection of long-lasting cig-a-likes
Our Standard and Super Plus vape pens make sure you have the best experience possible and with our world class ease-of-use and simplicity beginners to veterans can appreciate our Super Power Mig Cig eCig Batteries
Our Clear Fusion e-cigs Kit are extremely affordable and offer great value for money. In addition to a trademark quality product, great battery, life and supreme vapor, you also get a 30ml bottle of our prestigious vapor e-juice, that roughly translates to 30 packs of cigarettes. A great saving in purchase cost compared to cigarettes. In other words, you'll not only get better experience, but will also save a lot of cash in the long run.
Click
here
to view Mig Fusion kits.
Advanced E-Cigs
For vapers who want more of everything: more control, more flavor and more vapor, we offer our top of the line advanced e-cigarettes. These kits exceed the current standards of battery life, versatility, and vapor quality.
Our advanced e-cig kits with variable voltage/variable wattage allow you to customize your experience just the way you like by choosing the desired wattage level. Ideal for intermediate and experienced vapers, these e-cigs are slightly bigger in size, but much bigger in quality. MIG skilled engineers have come up with the technology that has helped us design the best tank with huge storage capacity. What's more, the 1300-1600 mAh batteries can last for up to a whole day while delivering a constant 4.2-volt output for smooth flavor and performance.
Is Vaping Safe and How Will Switching Benefit You?
As with any new technological breakthrough, there are usually many questions about the safety of new tech products. We addressed many of our customers' concerns in a
blog post about vaping safety
. Newsweek reported that vaping "could save users' lives" in an article about a vaping study. You can learn more about the study they based their claim on
here
.
Vaping Tip
: Don't believe everything you read about vaping! We've debunked
7 of the biggest myths about vaping
that have been circulating the Internet.
There are many benefits that come with making the switch to ecigs. Perhaps the most compelling is their pricing. They are also portable and discrete, eliminating the need to worry about secondhand smoke.
Vaping 101: The Basics
Once you've decided to make the switch to electronic nicotine delivery systems, you should bone up on your
vaping vocabulary
. There are many terms associated with vaporizers that are unfamiliar to people who have no experience with the devices. For a little more information about the parts of an ecig, check out our
Vaping 101 blog post
.
Here are the basics:
Generally speaking, an electronic cigarette is composed of a battery that holds the electronic charge, a cartridge that holds the vaping liquid and an atomizer that turns the liquid into vapor.
Ecigs and vaporizers come in many shapes and sizes. The diagrams above show the most common cigalike (aka ecig, electronic cigarette) and portable vaporizer (aka vape, vape pen) we offer at MIG Australia.
As you get more advanced, you will be presented with even more terms and concepts that will require additional research. For example:
what is sub-ohm vaping
? Which atomizer goes with which eliquid?
Please feel free to contact us for any assistance or queries you may have
Refillable cartridges Prefilled Cartridges 30 ML bottles of E-Liquid
Choosing the Best E-Liquid for You
Once you've chosen an electronic cigarette starter kit, the next step would be to choose an e juice to go along with it. Vaping liquids go by many names, but they all share basic properties. Each eliquid flavor is usually available in a variety of nicotine strengths. This allows you to taper off nicotine over time.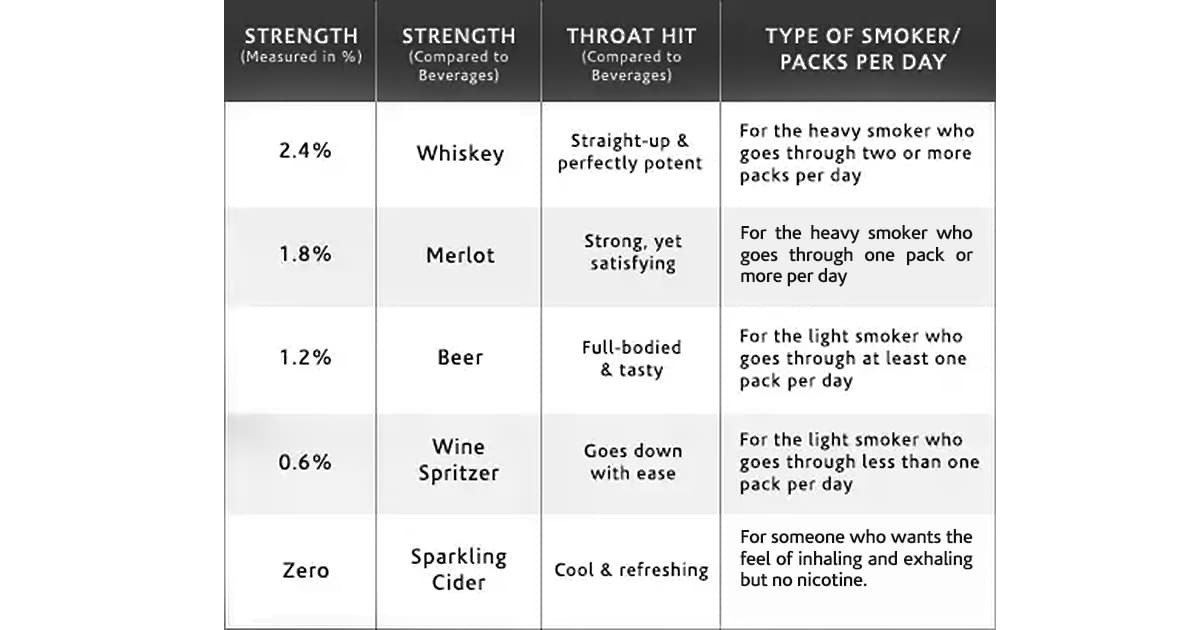 Unsure which nicotine strength to choose? The table above gives you a good idea of what nicotine strength might be right for you.
After that, you may want to
learn the difference between VG and PG e-liquids
. Each offers a unique vaping experience, even when vaping the same flavor. And, as mentioned in the previous section, VG and PG eliquids require different atomizers and/or cartridges for optimal use.
Vaping Tip
: When shopping for e-liquids, you can choose between
pre-filled cartridges
or cartridges you can refill yourself with your
favorite flavors
.
Vaping Tip
: If you're all about flavor, you may enjoy a high PG e-liquid. But if you're more interested in the density of your vapor cloud, check out high VG flavors instead.
Technically speaking, eliquids labeled as "High PG" contain a blend with a higher concentration of
propelyne glycol
. Vape juice flavors labeled as "High VG" feature a blend that is more concentrated with vegetable glycerin. Most eliquids are blends of both, with different ratios of propylene glycol and vegetable glycerin.
Once you've decided to go with either PG or VG and have chosen your nicotine strength, you can start shopping for your favorite flavors! Here are some of our customer's favorite flavor profiles:
Tobacco E-Liquid Flavors
Many vapers are inclined to look for a eliquid flavor that closely
matches the tobacco flavors
they are accustomed to.We have a variety of tobacco-flavored vape juices that have become customer favorites.
Black Note offers a truely special tobacco taste as the leaves are cold pressed into the liquid , The most popular MIG flavours are Red Zepplin , Sahara Classic and House
Menthol E-Liquid Favorites
If you enjoy the minty freshness of menthol, we have several e juices that are sure to please your taste-buds. Their icy flavors can be enjoyed on their own or combined with tobacco and fruit undertones.
Specialty E-Liquid Flavors
Colombian Coffee , Vanilla, Custard , are some of the flavours you can try to curb your sweet cravings should check out our specialty flavors..
Fruit-Flavored E-Liquids
For those that gravitate to
eliquids with fruit flavors
, we have a large assortment to choose from. Miami Blast ( mango,strawberry and menthol ) , Grape and Blueberry are tried and tested fan favorites.
---
How to Use and Maintain Your Vape
Now that you've chosen your ecig and vape juice flavor, you're ready to start vaping!
Charging Your Battery
When you first receive your new Vape Battery it will be usually becharged about 85% from the factory, but it is recommended to fully charge before using.You just need to screw the battery into the USB charger and plug it your charging device.
The light in the USB will be flashing or twinkle red. It will continue to be this way throughout the charging cycle.When the battery is fully charged the light will be a constant green. No need to unplug the device as it has an automatic cut off built in. When the light is fully green you may unscrew the battery from the USB adapter and your Battery is ready for use.
Locking and Unlocking your Vaporiser - Pressing the button 5 times will lock and unlock the battery . This is a safety feature of most vape batteries, e.g the MIG Bug, Morpheus and WTF Sub 40, Aspire Zelos, Premium and AIO, E-Leaf Nowos , Voopoo Drag and Smok Morph. IF your battery is locked you will be unable to produce vapor. Most Vaporiser will be locked when you receive them.
Vaping Tip: Make sure that your battery lasts long by following best practices when charging your vape. Here are some charging do's and don'ts if you're unsure about how to charge your vaporizer or ecig properly.
Follow these
instructions to clean your vape
and make sure that you get the best flavor with every puff. We also offer
tips to get the best performance from your vaporizer
over time. (NOTE: to preserve the flavor profile of your vape juices, be sure to use the same eliquid in your cartridge.) And even though
secondhand vape may be harmless
, it's always a good idea to be respectful when you exhale a big vapor cloud in a public space.
Where Can You Vape?
Vaping regulations are constantly evolving as more and more people use electronic devices to get their nicotine (or to taper off of nicotine over time). States and municipalities all have their own laws, so it's important to find out where vaping is regulated in your area.
If you maintain the rule , " If you can't smoke , you can't vape" you'll be good
Vaping Tip
: Perhaps one of the most frequently asked questions on this subject is whether you can
fly with your vape
. Get answers before you pack your bag for your next trip!
CLEANING THE BATTERY
Over time and useage the Cart end of the battery can become dirty due to liquid residue , dust and moisture in the air. 
The battery can be cleaned with a tissue or paper towel , if required a rubbing alcohol can be used for heavy soiled batteries. The tools most commonly used are:
1.
A toothbrush - good for cleaning the threads and interior portion of the battery connector.
2.
A needle for cleaning the air holes (a toothpick can be forced in, if a needle can't be found)
3.
Another product that can be used is called a Wisp, which is usually sold in the same places toothbrushes are sold (look in the floss area).
To clean with a toothbrush.
First moisten the end of the toothbrush with rubbing alcohol.
IMPORTANT
: Try to prevent any liquid (including rubbing alcohol) from entering the hole that leads inside the battery. Failure to do so can short the battery - damaging it permanently, and rendering the battery inoperable.
1.
To clean out the holes in the threads of the battery - Use a needle or Wisp end to dislodge the sediment.
2.
Scrub the brush along the threads to clean the outer portion of the battery.
-To clean inside portion of the battery
3.
Place the toothbrush on a flat surface, with the bristles facing up, push the battery into the toothbrush bristles, and rotate the battery in a circular motion to break up the sediment. (An alternate view is shown in Fig. 14-5)
4.
If you have the Wisp, the pointed end can be used to break up any sediment that may be particularly difficult to remove from the area between the center-post of the battery and the threads.
 If you want to remove any rubbing alcohol, you can use a cotton ball, paper towel, a small piece of toilet paper, or paper towel. (This can be rolled into a point for a more thorough cleaning)
If you getting Light activation but no vapour
If cleaning has not fixed the issue , it may be the center pin that touches the cartridge has been pushed down , using the needle gently lift the center pin 0.5 -> 1mm , by leveraging between the edge of the battery and the pin with the needle in the groove , it will move quite freely , this will enable contact between the 2 again .
Storage
 Cartomizers should be kept in a place that is dark, cool, and dry. A closet or similar place would be fine. For short term storage (1 or 3 months), little or no special measures will likely be necessary. If long term storage is desired, the following methods can be used:
 Cartomizers can be stored in a plastic zip-lock style bag, or other air-tight containers to help preserve freshness. Some e-cig users may also refrigerate them, especially if they live in an unusually hot environment (heat can degrade the quality over time). If refrigerated, be sure to allow adequate time for the cartomizer to warm before using (probably an hour or more).
 Due to propylene glycol being a
humectant
, meaning that it attracts moisture ("A humectant is a substance with the ability to attract and hold water in a formulation"), cartomizers can be stored with rice inside the container - the rice will absorb any excess moisture. This is good if living in a humid environment.  
Resetting the automatic battery

 If the automatic battery seems to be working inconsistently, a reset can be done holding the threaded end of the battery about 2.5cm away from your mouth and blowing into the hole (where the cartomizer attaches) 5 times. This is done with the cartomizer removed from the battery. Do not blow into the e-cigarette with the cartomizer attached, or it could blow fluid into the battery components, and short out the battery

Tip - Preventing premature burn

 If an e-cigarette is vaped in rapid succession, referred to as "Chain Vaping", the heating coil can burn the polyfill prematurely. To help prevent this from occurring, take a 30 second break between puffs. This is especially true when a carto is put on a recently charged battery. A freshly charged battery has a full charge, and will burn hotter than a battery that has been depleted of some of it's charge through normal use.